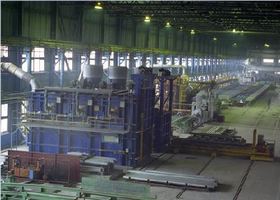 Aluminium shapes production workshop incorporates melting and extrusion divisions.
Melting division basic products are aluminium cylindrical ingots of Ø127 mm, Ø152 mm,  Ø175-178 mm, Ø203 mm, length up to 6 m .
The Company has mastered production of ingots of the following alloys grades:
А5 – as to GOST 11069; АД1, АМц, АМг2, АМг6, АД31, АК6, АК4 – as to GOST 4784.
The division is equipped with advanced high-productive melting complex (Q=30 t primary aluminium smelter, Q=15 t holding furnace, «hot-top» process semi-continous casting plant). 
Ingots can be heat treated in homogenizing furnace with forced cooling chamber. To reduce metal loss during melting, there is the equipment for aluminium alloys grabs packaging in the division.
Extrusion division is equipped with high-productive high-speed pressing line with «DANIELI» (Italy) 2450 tf press at the beginning.
Pressed shapes are made of all alloys mentioned in State Standards GOST 8617 and DSTU B V.2.6 – 3 – 95 (GOST 22233).   
                                                                                      Manufactured shapes basic properties:
     Width across corners – up to 203 mm
     Finished shapes length       –  4I6.5 m
     Minimum wall thickness    – 1.0 mm


Line weight: 
   minimum   –  0.3 kg
   average    –  1.8 kg    maximum – 9.0 kg
Manufactured shapes are used for building envelopes production, in engineering, for consumer goods and in other branches of industry. Production is carried out at the facilities of   LLC "TEKHNOGAZ-S".