NEWS
11.02.2021
THE AMBASSADOR OF UZBEKISTAN VISITED  JSC "SMNPO-EGINEERING"
The Ambassador Extraordinary and Plenipotentiary of the Republic of Uzbekistan to Ukraine Alisher Kurmanov and the Embassy Counsellor of Economics and Trade Babur Rasulov visited JSC "SMNPO-Engineering".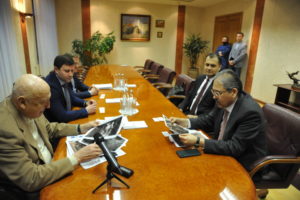 Sumy region was the first Ukraine region that the Ambassador visited and Sumy machine-building association became the first enterprise visited by the ambassador as well.
Sumy machine builders have long-standing cooperation with Uzbekistan. In August 1941, the workers of the plant had to urgently dismantle all equipment and evacuate it to the city of Chirchik (Uzbekistan). The equipment was not taken back to Sumy, but on the basis of the evacuated Sumy plant, an enterprise was created, now called JSC "Uzbekhimmash Plant".
An interesting fact that, being the Minister of Chemical and Petroleum Engineering of the USSR V.M. Lukyanenko planned to build a mirror copy of two workshops of  Sumy NPO (for the production of pumps and centrifuges) in Chirchik. A project was developed, however, it was not possible to implement it.
In 1992 JSC "Sumy NPO" began to actively cooperate with companies in the oil and gas industry of Uzbekistan, in particular, in gas production and transportation. By the way, now 90% of Uzbek gas is transported using equipment made by Sumy machine builders. There is not a single field or large facility, wherever the equipment of Sumy Company is operated.
Vladimir Lukyanenko, General Director of JSC "SMNPO-Engineering", briefly spoke about the history of the enterprise, manufacturing capabilities and equipment, stressing that both 2019 and 2020 passed under the sign of fulfilling orders for Uzbekistan for the Company. The enterprise produced gas pumping equipment necessary for the reconstruction of compressor stations in Uzbekistan and the construction of new ones, at once according to four projects.
 Alisher Kurmanov noted that he knew that at one time the Company produced a lot of products for his country, but that this cooperation continues now, he did not know. And he explained that he, as an ambassador, is often approached by representatives of Uzbek companies in case of various problems related to the fulfillment of orders by Ukrainian enterprises, in particular, disruptions in the delivery of finished products. As for JSC "SMNPO-Engineering", there were no complaints. The Company has once again confirmed its reputation as a reliable partner.