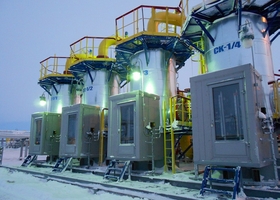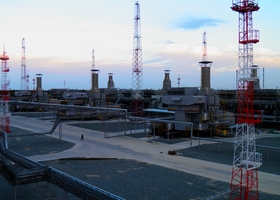 JSC "SMNPO – Engineering has been a leader in manufacturing of equipment for oil and gas industry for more than 40 years.
The greater part of this equipment comprises turbo-compressor packages.
The Company designers have developed more than 100 models of turbo-compressor packages driven by industrialized versions of marine and airderivative gas turbines with power of 4 MW; 6.3 MW; 8 MW; 10 MW; 16 MW and 25 MW, as well as driven by electric motors of 1.0 to 6.3 MW. More than 2100 of such units are operated successfully in Russia, Ukraine, Turkmenistan, Azerbaijan, Argentina, Turkey and other countries.
Last years the Company has developed the whole range of new modifications of turbo-compressor packages with marine and airderivative gas turbines of the latest generations ensuring effective efficiency of 34-35.5%.
Future plans include developing of drives with complex work cycle that will increase efficiency up to 43-45%.
The Company manufactures compressor stations based on turbo-compressor units which are used for:
oil gas compression during gas-lift oil production;

natural gas transportation, casing-head gas collection and transportation;

casing-head gas compression in gas treatment plant technology;

gas injection into bed during gas condensate field development with re-injection process.
The largest gas main compressor stations with 16 MW power units are built on Urengoi – Pomary – Uzhgorod, Urengoi – Centre, Yamburg – Yelets pipelines. They provide continuous gas supply to central regions of Russia, Ukraine and Western Europe.
In addition to compressor stations and turbocompressor packages the company manufactures a wide range of other oil and gas industry products. The company manufactures equipment on the EPC basis for units of complex gas treatment in condensate fields and centrifugal pumps to keep constant pressure during oil production.
Details are specified in the Technical Catalog "Equipment for Oil and Gas Industry".