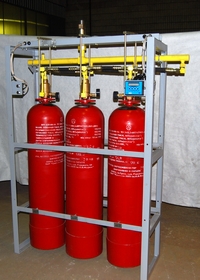 To complete turbo-compressor packages and other equipment, SMNPO-Engineering JSC has mastered the serial production of MGP-type modules, BGP-type batteries and sets of KMGP-type gas fire-fighting modules.
Modules, elements and sets of modules (as part of fire fighting systems) are designed for storage and release of a gas fire-fighting agent (GFFA) – carbon dioxide (dioxide) Standard DSTU 5092: 2008 when fighting A, B and C classes fires    according to Standard DSTU EN 2: 2014 and electric equipment under voltage up to 1000 V.
The modules can be started automatically (remotely) with the help of electromagnetic starter. Reserve start – manual, from the manual start button.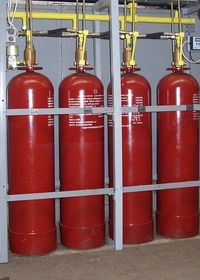 Technical Data of Gas Firefighting Module
MGP-1-15-80-16N

Designation

of gas firefighting module

MGP-1-15-80-16N

Maximum working pressure, МPа (kgf/сm2)

15 (150)

C

ylinder capacity (volume)

, l

80

Inside nominal diameter of release element, mm

16

Duration of release of min. 95 % of GFFA mass
   from the module, s, max

55

Relative mass of GFFA residual  in the module




   after triggering,%, max




5

Module inertia when switching on from starting
   impulse, s, max

2

Module overall dimensions, mm, max

600х440х1850

Module constructive weight

(without GFFA), kg, max

150
Technical Data of Gas Firefighting
Elements

Designation

of gas firefighting element

BGP-2-15-80-16N

BGP-3-15-80-1N

BGP-4-15-80-16N

   Maximum working pressure, МPа (kgf/сm2)


15 (150)

   Quantity

of modules (cylinders), pcs

.

2

3

4

   C

ylinder capacity (volume)

, l


80

   Inside nominal diameter of release element, mm


16

   Duration of release of min. 95 %
   of GFFA mass from the module, s, max


55

  

Relative mass of GFFA residual  in the module




   after triggering,%, max




5

   M

odule inertia when switching on from

starting
   impulse, s, max


2

   C

ylinders

overall dimensions, mm, max


970х440х1860

1340х440х1860

1710х440х1860

   

 Cylinders constructive weight

(without GFFA), kg, max


245

345

450
Technical Data of Gas Firefighting
Modules Sets 
Designation

of gas firefighting modules set

KMGP-2-15-80-16N

KMGP-3-15-80-16N

KMGP4-15-80-16N

KMGP-5-15-80-16N

КМGP-6-15-80-16N

   Maximum working pressure, МPа (kgf/сm2)


15 (150)

    Quantity

of modules (cylinders), pcs

.


2

3

4

5

6

   C

ylinder capacity (volume)

, l


80

   Inside nominal diameter of release element, mm


16

  Duration of release of min. 95 % of GFFA mass from the module, s, max


55

   Relative mass of GFFA residual  in the modules set after triggering,%, max


5

   M

odules set inertia when switching on from

starting impulse, s, max




2

   Modules set overall dimensions, mm, max


1040х440х2015

1410х440х2015

1780х440х2065

2150х440х2065

2520х440х2065

  

Modules set constructive weight

(without GFFA), kg, max


240

350

480

610

720