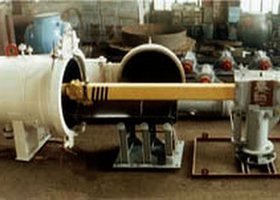 PIG launcher and receiver stations are designed for periodic passing of pigs and flaw detectors through gas pipelines. Operated gas pipelines require cleaning and internals condition checking.
The station comprises chambers for launcher and receiver pigs as well as the multipurpose manipulator, designed for pig removal from receiver chamber, its moving and supply into the launcher chamber as well as loading and unloading operations with pigs during their possible transportation.
All mechanisms of the station are equipped with manually operated drives with mechanic and hydraulic actuators that guarantee their normal operation in the field conditions without power resources.
Specification
| | |
| --- | --- |
|       For gas pipelines of DN, mm |           500; 700; 1000; 1200; 1400 |
|       Working pressure, MPa |       100 |
|       Working temperature, °С |         from -80 up to +80 |
|       Max.lifting capacity of manipulator, kg |            depending on weight of pig or flaw detector |
Details are specified in the Technical Catalog "Equipment for Oil and Gas Industry".