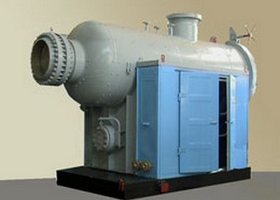 The filter-separators are designed for increase of purification degree of natural gas from mechanical impurities and drop liquid, which are reasons for erosion of process equipment and compressor station pipelines.
JSC «SMNPO – Engineering» has developed and mastered the serial production of filter-separators for gas capacity from 5 to 25 MMSCMD.
The delivery set consists of filter-separator, the cubic vessel, servicing platforms, process pipelines with shut-off, control valves, instruments.
The filter-separator shell is divided into two process sections:
                              – section with filtering elements, designed for solid particles filtration and liquid coagulation;
                              – section with separation nozzle of gauze cartridge, designed for drop liquid separation.
The sets are equipped with instruments allowing to control parameters of in-going gas, purification process and level of separated liquid.
Separated liquid drain out of cubic vessel is made automatically. To prevent liquid freezing the cubic vessel is equipped with heating coil.
Capacity increasing is reached by parallel installation of several separators.
The equipment is mounted on open platform and can be operated in different climatic zones.
.
Specification
| | |
| --- | --- |
|   Capacity, SCMH (SCMD) | от 2.08х105 (5х106) up to 1.04х106 (25×106) |
|   Working pressure, MPa | 9.0 |
|   Working temperature, °C | from -60 up to +80 |
|   Weight, ton | from 10 up to 30 |
|   Filtering efficiency for particle size more than 10 µm, % | up to 100 |
|   Hydraulic resistance, MPa | up to 0.05 |