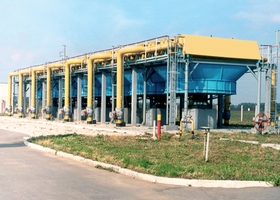 Air cooling equipment is designed for natural and oil casing-head gas cooling in systems of compressor stations for different services, as well as for other gaseous and liquid media cooling in gas, chemical and petrochemical industries.
The equipment is manufactured with horizontal, vertical or zigzag arrangement of sections, in required material version, and designed for cooled medium pressure up to 120 kgf/cm2.
The construction of air cooling equipment is designed for several devices in-line arrangement. The special platforms are provided for convenience of equipment servicing.
Air cooling equipment can be used in the areas with different climatic conditions, seismicity up to 7 on Richter scale.
Air cooling equipment in modular design (gas coolers) is provided to cool gases with high temperature of hydrates formation.
Specification
   

Cooled medium 
conditional pressure, MPa

Total area of 
heat-transfer surface, m2

Length of finned pipe, m

Fan motor 
power, kW

Diameter 
of fan wheel, m

Quantity of fans

  AVMG-9-Zh-2,5-Б5-М/4-4-1.5

2.5

1050

1.5

7.5

0.8

1

  AVMG-9-Zh-1.6-Б1-В/6-6-3

1.6

3520

3

7.5

0.8

2

  AVG-20-Zh-1.6/6-1-4

1.6

2400

4

30

2.8

1

  AVG-20-Zh-2.5

2.5

3560

6

7.5

0.8

6

  AVG-20-Zh-8.0/4-4-4

8.0

1700

4

30

2.8

1

   АVО

7.6

6820

8

37

2.8

2

  Unit of gas coolers ND

3.5

5954

10

7.5

0.8

10

  Unit of gas coolers VD

7.6

5690

10

7.5

0.8

10

  Unit of gas coolers VD

12.5

5680

10

7.5

0.8

10

   2АVG-75

7.5

9730

12

37

4.45

2

   АVGМ-85

8,5

10530

12

13

2,7

6