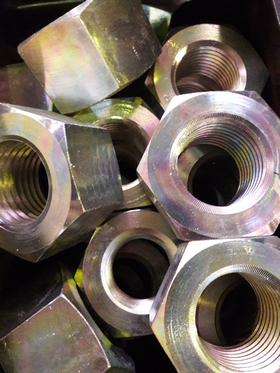 Electrochemical and chemical coating processes are playing an increasing role in modern machine-building.
Currently, JSC "SMNPO – Engineering" is in the position to perform the following types of coatings:
Protective: serve to isolate metal products from mechanical damage and exposure to aggressive media;

Protective and decorative: designed to protect parts from aggressive and destructive external factors, as well as to give them an aesthetic appearance

;

Special: serve to improve certain characteristics of surfaces, for example, increasing wear resistance and hardness, electrical insulation, magnetic properties

.
The abovementioned types of coatings are used to protect the surfaces of parts of compressors, centrifuges, pumps, ball valves, heat exchangers, DN 1000-1400 ball valve plugs, etc.
The available equipment allows to apply chrome coating on shafts up to 3 meters long and Ø250mm, spherical products – up to Ø2200mm.
The experience and qualifications of specialists allow us to develop and implement the above-mentioned coatings of parts for centrifuges, ball valves, compressor units, pumps, etc.
The quality of obtaining coatings is ensured by strict adherence to technological discipline, control at all stages of production, a high level of specialists, process equipment and tooling.