It makes possible to perform both preliminary and final heat and chemical-heat treatment of parts manufactured by JSC «SMNPO – Engineering» and the co-operation.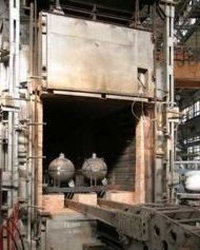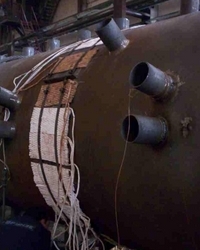 To obtain the desired set of properties of steels and alloys the thermal divisions of workshops are equipped with tools for conducting of all types of heat treatment of forgings, castings, various welded structures and pipes.
For heat treatment (normalizing, quenching in water, tempering) castings weighing up to 6t chamber gas furnace with the size of working space 2900x4500x2150mm are used.
Heat treatment of forgings is carried out in the gas chamber and shaft electric furnaces:
annealing of forgings up to 5 m long  – TDO-30.53.19 / 11 bogie hearth gas furnace;

water quenching of forgings weighing up to 10 t – TNO-45.45.22 / 11 gas furnace ;

quenching in oil of forgings weighing up to 2 tons – TNO-18.26.13 / 11 gas furnace ;

thermal treatment of shaft type forgings  up to 4m long – SSHO-15.45 / 10 shaft furnace.



Shaft furnace SSHO-20.20 / 10 is used for parts weighing up to 3.5 tons quenching in oil. Shaft electric furnaces with a depth of 10 m are used for parts such as shafts with length  up to 8m heat treatment.
Heat treatment of welded structures (tanks, frames, etc.) is carried out in gas chamber furnaces with TDO-56.80.40 / 10 bogie hearth  with working volume of 5600x8000x4000 mm.
For heat treatment of closing welded seams of tanks with a diameter of up to 3 m and a wall thickness of up to 100 mm, equipment for local heat treatment is used.
To increase the hardness and wear resistance of the parts surface, the following types of chemical heat treatment are used:
Carbonization of parts up to 2 m long –

SShTsM-10.20 / 9

shaft furnace;
Nitriding of parts up to 4m long –

SShA-7.40 / 6

shaft furnace.
For surface hardening of parts such as shafts up to 2 m long and wheels with a diameter of up to 450 mm, as well as hardening the surface of small parts, HFC installations are used with both machine and lamp generators.    
Non-oxidizing heating for hardening of small parts and tools is carried out in sodium salt (NaCl) and barium (BaCl2) furnaces-baths ∅260×300 mm.