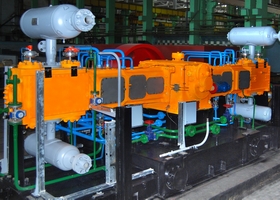 These compressors are designed for compression of natural and casing-head gas. The compressors are of reciprocating type on opposite bases 2М10; 4М10; 2М10А;  4М25; 6М25 and 6М40.
The reciprocating mechanism is lubricated by oil circulated under pressure being produced by gear-type pump. The cylinders and rod sealing devices are forced lubricated under pressure being produced by multi-plunger pump. The cylinders are forced cooled by fluid through closed loop. Intra stages the gas is cooled by water through closed loop discharged under pressure.

Automatic monitoring, control and protection system ensures monitoring of main parameters, alarm and emergency signaling as well as blocking of driving electric motor.
Specification
    Compressor
type
    Compressed
medium

Capacity

Pressure abs., MPa

Consumed power, kW

Engine's type

m3/min
Nm3/min

suction

discharge

6GM40-16/100-420

Natural gas

16.3

1470

9.9

41.3

6080

Electric motor

6GM25-210/3-56

Natural gas

210

470

0.3

5.6

3750

Electric motor

6GM25-210/4-60

Associated petroleum gas

209

470

0.4

6.0

3810

Electric motor

6GM25-180/3-75

Associated petroleum gas

180

400

0.3

7.5

3810

Electric motor

6GM25-120/14-38

Natural gas

120

1630

1.4

3.8

3910

Electric motor

6GM25-140/35-56

Natural gas

140

4680

3.5

5.6

3960

Electric motor

4GM25-76/35-56

Natural gas

76

2580

3.5

5.6

2500

Electric motor

4GM25-25/8-34

Associated petroleum gas

25

197.5

0.8

3.4

821

Electric motor

4GM10-0.5/4-46S

Natural gas

0,5

68

0.4

4.6

493

Gas piston engine

4GM10-4.4/71-195.5

Associated petroleum gas

4,4

282

7.1

19.55

660

Electric motor

4GM10-6/28.1-71.4

Associated petroleum gas

6

144

2.81

7.14

520

Electric motor

4GM10-48/2-57S

Associated petroleum gas

48

5430

0.2

5.7

900

Electric motor

4GM10-24/8-28.6

Associated petroleum gas

24

144

0.8

2.86

523

Electric motor

2GM10-4/40-120

Associated petroleum gas

4

171

4

120

374

Electric motor

2GM10-25/1.05-70

Associated petroleum gas

25

24.5

0.105

7.0

330

Electric motor

2GM10-41/3.8-8.5

Associated petroleum gas

41

123

0.38

0.85

280

Electric motor

2GM10А-2.7/21-151

Associated petroleum gas

2.7

2100…3340

1.5…2.1

12.1-15.1

250…292

Gas piston engine