Compressor stations comprises functionally connected with each other complexes of main process and auxiliary equipment, operation control of which is made with the help of modern microprocess systems.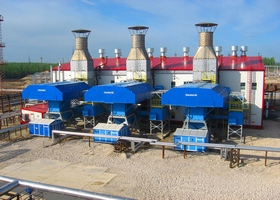 Automated compressor stations are designed for:
natural gas transportation through pipelines;

oil gas compression during gas-lift oil recovery;

casing-head gas collection and transportation;

compression of casing-head gas in gas refining plants production process;

for gas injection in a bed when mining of gas condensate deposits using cycling process.
Compressor and turbocompressor units with centrifugal compressors are the basis of stations. Gas turbine derivated engines of aircraft type serve as compressor drives.
Module-container version and maximum factory readiness make it possible to perform constructing and mounting works urgently and with minimum charges.
The equipment can be delivered to be installed in industrial buildings and located indoors. 
Compressor stations with complete set of main process equipment and accessories according to Customer's requirements can be designed, manufactured and delivered. Stations can be constructed under turnkey conditions.
Modular compressor stations with centrigugal compressors
Description




Purpose or




application




range

Capacity




1.1013




and 20°С,




MMSCMD

Pressure, MPa


(kgf/cm2)

Package type

Dehumidification




type

otal




weight




of




equipment, t

suction

discharge

  KS-6.3-CGTP/4-76
  Gas transportation

6.3

0.39




(4.0)

5.49-7.50




(56.00-76.00)

ТКА-C-16/76




(3)

With liquid




or solid sorbent

2800

  KS-8.0-CGTP/0.35-5.8
  Gas lift oil field recovery

8.0

0.35




(3.5)

5.8




(58.0)

ТКА-C-16/76




(5)

With liquid




or solid sorbent

4200

  KS-4.0-CGTP/0.6-12
  Gas lift oil field recovery

4.0

0.59




(6.0)

11.7




(120.0)

ТКА-C-16/120




(3)

With liquid sorbent

2300

  KS-4.0-CGTP/0.49-5.6
  Booster

4.0

0.49




(5.0)

5.49




(56.0)

ТКА-C-6.3/0.5-5.6




 (4)

With liquid sorbent

2500

  KS-2.4-CGTP/0.4-12
  Gas lift oil field recovery

1.6-2.4

0.39




(4.0)

11.7




(120.0)

ТКА-C-6.3/0.35-2.6




ТКА-C-6.3/2.6-12.0




(6)

With liquid sorbent

3700

  KS-1.1- GTP/0.11-5.6
  Modernization of compressor shops at gas processing works

0.67-1.2

0.108




(1.1)

3.90-5.49




(40.0-56.0)

ТКА-C-6.3/0.1-1.25




ТКА-C-6.3/1.25-5.6




(4)

With liquid sorbent

1500

  UKSP-16/500
  Gas and condensate fields development

4.1

10.58




(105.8)

49.54




(505.0)

ТКА-C-16/500




(1)

With liquid sorbent

800

  KS-41.0-CGTP/54-76
  Booster

41.0

54

76

GPА-C3-16S/76




(4)

With liquid sorbent

2800

  KSL-72.0-CGTP/53-76
  Gas main

72.0

52.8

76

GPА-C-16S/76-1.44




(3)

With liquid sorbent

930

  KS-4.0-CGTP/8.7-26
  Power station fuel gas preparation

1.58

8.7

26

GPА-C-6.3ВV/26-3.0




(1)

With liquid sorbent

405

  KSL-10.6-CGTP/46-79
  Gas main

11.4

46.37

73.9

GPА-C-8.0А/80-1.71




(3)

With liquid sorbent

1150

  KS-10-CGTP/6-30
  Booster

10.0

6

30

GPА-C-6.3А/14-2.3




GPА-C-6.3А/30-2.2




(8)

With liquid sorbent

1560

  KS-10-CGTP/32.4-55
  Booster

10.0

32.4

55

GPА-C-8.0А/55-1.7




(2)

With liquid sorbent

2150

  KSL-90.0-CGTP/50-76
  Gas main

90.0

50

76

GPА-C1-16S/76-1.45




(5)

With liquid sorbent

5200

  KSL-4.0-CGTP/43.5-75
  Gas main

4.42

43.5

75

GPА-C-4А/76-1.7




(2)

With liquid sorbent

630

  KS-0.95-CGTP/5.2-37.8
  Booster

0.953

5.2

37.8

ТКА-C-6.3А/0.52-3.77




(2)

With liquid sorbent

780

  KSL-10.6-CGTP/46-79
  Gas main

11.4

49.1

80.35

GPА-C-8А/82-1.71




(3)

With liquid sorbent

1200

  KSL-10.6-CGTP/46-79
  Gas main

11.4

45.9

80.35

GPА-C-8А/82-1.84




(3)

With liquid sorbent

1100

  KS-82.5-CGTP/66-89
  Gas main

113

68.5

91

GPА-Ц1-25С/92-135М1




(5)

With liquid sorbent

2800

  KS-3.5-CGTP/5-100
  Booster

3.535

1-5

100

ТКА-C-16/1.0-10.0




EGPА-Ц/11-1.92




(2 ТКА, 1 EGPА)

With liquid sorbent

1380

  KS-2.0-CGTP/1.2-5.7
  Booster

2.0

12

57

ТКА-C-6.3А/1.2-5.7




(2)

With solid sorbent

320
Modular compressor stations with piston compressors
Description

Capacity,




thousand

NCMD

Pressure,


(kgf/cm2)

ompressor




type




(packages quantity)

Crankshaft




rotation

speed,




rpm

Compressor




drive

type

Drive
power,
kWт

suction

discharge

   КU-6ГМ40-16/100-420

1680

100

420

6GM40




(4)

300

Motor




SDKP2-21-69-20UHL4

6300

   GKS-4.0/12-500

500

45

120

2GM10-4/40-120S




(3)

500

Motor




SDKP2-16-29-12KUHL4

400

   GKS-4.0/12-1000

1000

45

120

2GM10-4/40-120S




(6)

500

Motor




SDKP2-16-29-12KUHL4

400

   GPA-P-0.5/4-46С

98-100

3-20

46

4GM10-10/4-46S




(2)

600

Gas-piston engine




6G1N25/34-2

500