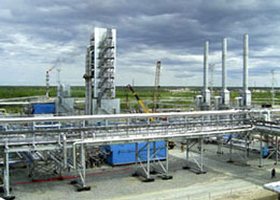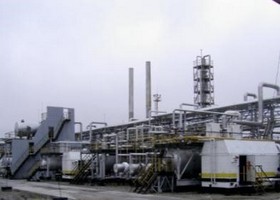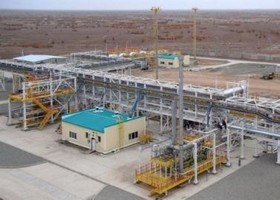 Complex gas treatment plants (UKPG) are designed for treatment of high-pressure natural gas by method of low-temperature separation with methanolinjection and reaching the dew point as per water and carbohydrate with subsequent delivery into main gaspipeline, as well as for obtaining stable hydrocarbon condensate. 
UKPG main process equipment comprises the following items:
low-temperature separation unit with the block of inlet separator and assemblies for gas consumption measurements;

condensate stabilization unit, including column equipment, heat exchangers, process heater, pumping equipment, assemblies for gas and condensate consumption measurement;

methanol regeneration unit.

UKPG auxiliary system comprises the following items:
flare system;

unit of air treatment for instruments;

condensate emergency drain system;

stock of finished products;

inert gas storage;

heat supply system.

Gas complex treatment plants can be developed for different gas capacity, with application of different gas treatment procedures.
Multistage layout of process units on the stack, assembled steel sections of which are incorporated in the delivery scope, is used for equipment compact arrangement.
Modular design and maximum factory readiness permit to carry out equipment installation undertime.
The plants are designed for operation in climatic zones with temperature from -60°С up to +45°С.
Specification by the example of UKPG-2.0 and UKPG-3.0
Parameter

UKPG-2.0

UKPG-3.0

   Gas capacity, MMSCMD

1.0 – 2.0

2.0 – 3.0

   Condensate capacity, t/h

8.0 – 12.0

2.0 – 50.0

   Gas pressure: – inlet, MPa




                            – outlet, MPa

8.5 – 16.0




5.5 – 7.5

8.5 – 16.0




5.5 – 7.5

   Condensate outlet pressure, MPa

0.6*

0.6*

Note  * – to be clarified on Customer's demand

The Company can develop and manufacture gas complex treatment plants with minimum gas capacity from 200000 m3/day.