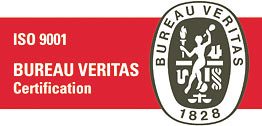 In October, 1997 the certification body Bureau Veritas Quality International (BVQI) granted to the Company the first certificate, confirming correspondence of quality system valid in JSC to the international standard ISO 9001.
Effective functioning of quality system is one of the major competitiveness indices in the world market for products, manufactured by JSC "SMNPO – Engineering".
Policy in quality assurance system  is based on the customers' needs complete satisfaction in design, development and production of high-quality, reliable and safe products for nuclear power industry, hydraulic power industry, oil, oil-refining, gas, chemical, metallurgy agricultural and other branches of industry of quality level completely corresponding standards, norms and regulation.
Quality Assurance System (QAS) valid in JSC complies with the international standard ISO 9001: 2015 and the IAEA recommendations.

JSC «SMNPO – Enginnering» has all necessary supporting and approval documents for its products
Comprehensive quality control of the Company products is provided with unique testing stations for field tests performing, different benches, checking machines and apparatus performances.