JSC "SMNPO-Engineering" has its own facilities for the manufacture of a wide range of rubber technical products from polyurethane to complete the manufactured equipment.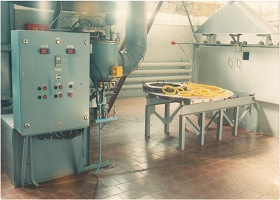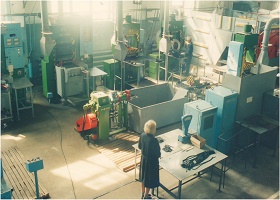 Equipping with the necessary process equipment: rollers for heating rubber compounds, a single-screw machine for the production of blanks of the required size, hydraulic vulcanizing presses with a force of 630 kN, 1000 kN and 2500 kN with electric heating of plates make it possible to produce molded rubber goods by the compressor and injection method.
The experience and qualifications of specialists allows us to produce about 500 items of products from more than 10 brands (7-B-14, 7-B-14-1,7-3825, 4326, 6190, 3826, 4161, IRP-1054, etc. according to TU U 6 000 152 135.057) rubber compounds – for centrifuges and pumps, compressors, oil and gas production equipment and pipeline valves. The temperature limit of the performance of rubber products is from minus 60C to plus 1800C in various environments (natural gas, oil, oils, etc.).
Full production cycle – from the part development,  molds design and manufacture  to the receipt of finished rubber goods, as well as close interaction of all services gives positive results in expanding the range and mastering the release of new products.
Also, JSC "SMNPO-Engineering" has mastered the production of polyurethane products based on polyethers.
Due to their strength properties, polyurethanes are used in various equipment, where the material is required to be abrasion resistant, increased strength and elasticity, high tear resistance, a combination of plasticity with hardness, resistance to oils, petroleum products, diluted acids.
Polyurethane products are made from imported raw materials on a special units for producing two-component injection molded polyurethane by free casting.
The capacity of the RTI section and the capabilities of the technological and technical services of the JSC for the design and manufacture of almost any molds, allows us to manufacture rubber and polyurethane products of any complexity in accordance with the requirements of the Customer and in any quantity.