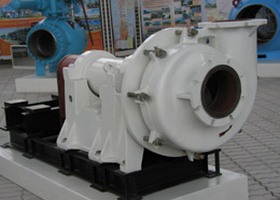 Electric pumping unit of CPN type is designed to pump products of rocks processing, ash, slag, ferrous and nonferrous metal ores tails, argillo-arenaceous rocks, grained sands, sand and gravel and spalling rocks.
Pumps of CN type are designed to pump household sewage and other contaminated liquids.
Centrifugal pumps are of horizontal, single stage, one-casing type.
Application: ferrous and nonferrous industry, coal and metal mining industry, melioration and irrigation, industrial and public water supply.

Technical data of pumps is specified in the Catalog.
When ordering the equipment which is been interested in, please fill in the  Questionnaire.
The Company improves the pumping equipment and equips pumping units with the motors of different manufactures. Thereby when ordering, please specify overall and mounting dimensions and required parameters according to the recommended form of a Questionnaire.
Details are specified in the Technical Catalog "Industrial  Pumps".