Pumps of CNS type are designed for pumping of pure and oil field hydrogen sulphide free water into oil bearing formations (pump version «2»).
     Pumps of  «2M, 3M» versions are designed for pumping of aggressive oil field water including hydrogen sulphide water into oil bearing formations.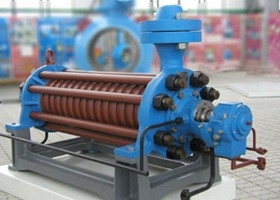 Pumps of CNS 120-…, 180-…, 240… types are manufactured in two versions:
with outboard bearing rotor supports. Oil supply is required for their lubrication (pump design «2»);

with built-in hard-alloy bearings, operating on transferred media (pump design «3»).
Actuation is carried out by the synchronous or asynchronous motors with power from 500 to 2000 kW.
The pumps are equipped with the automatic protection and alarm system as to the main parameters.
Technical data is specified in the Catalog.
When ordering the equipment which is been interested in, please fill in the  Questionnaire.
The Company improves the pumping equipment and equips pumping units with the motors of different manufactures. Thereby when ordering, please specify overall and mounting dimensions and required parameters according to the recommended form of a Questionnaire.
Details are specified in the Technical Catalog "Industrial  Pumps".