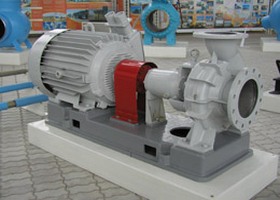 Cradle-mounted chemical pumps are designed for pumping of chemically active and neutral medium with hydrogen index pH 4…9 and temperature up to 70°C (for supply of oil, oil light products, chemically active and slightly aggressive liquids which may cause corrosion of pump inner flowing part material not more than 0.1 mm/year, and neutral liquids).
Application: chemical, oil refining, food industry.

Design features:
centrifugal cradle-mounted single stage pumps with horizontal shaft and one-side axial water feed to impeller and vertical discharge;

impeller design provides maximal rotor load relief of axial force;

axial force arisen during wearing is compensated by mounting group;

rolling bearings work like supports;

shaft sealing – end sealing or sealing with soft packing gland;

pump unit can be equipped with any type of electric motor which parameters and modification meet operating conditions;

bearing lubrication – liquid or consistent grease;

in pumps with liquid grease control of oil level in crankcase mounting group is provided with constant level lubricator.
Technical data is specified in the Catalog.
When ordering the equipment which is been interested in, please fill in the  Questionnaire.
The Company improves the pumping equipment and equips pumping units with the motors of different manufactures. Thereby when ordering, please specify overall and mounting dimensions and required parameters according to the recommended form of a Questionnaire.
Details are specified in the Technical Catalog "Industrial  Pumps".