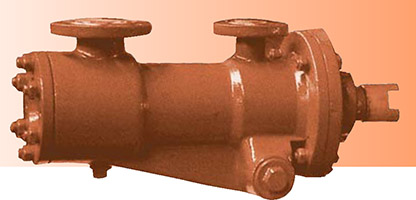 Three-screw electric pumping units are designed for pumping non-aggressive liquids without abrasive impurities and with lubricating properties, with  kinematic viscosity from 0.1 to 60 V. (0.1 to 60 cm2 / s), at  temperature of 373 K (100°C).
Electric pumping units are produced in climatic version "U", location category "C" according to the State Standard GOST 15150.
Minimum temperature in the room where the units are located should  be +5  ͦ С.
According to the principle of operation, three-screw pumps are of a positive displacement type.
The main components of the pump:   
 –  lidded casing; 
 – working mechanism;
 – mechanical seals;
 – ball valve.
The working mechanism consists of three screws – power rotor and two idle rotors.
The screws are enclosed in a cage, which consists of three adjacent cylindrical bores. When the screws rotate, a vacuum is created in the suction chambery, as a result of which the pumped liquid enters the screw grooves, which interlock when they rotate. In this case, the liquid moves along the pump casing in the direction of the discharge chamber and further into the pipeline system.
Unloading of axial forces affecting the pump rotor is carried out due to design features.
The mechanical seal prevents unpredictable outflow of liquid along the shaft. To prevent an off-design pressure increase  and liquid leakage outward, when the pump is stopped, valves are installed in the structure.
The pump is connected to the drive by means of a coupling.
Designation


Capacity,
Q, m3/hour

Pressure,
Р, kgf/сm2

Rotational speed, rpm

   3V 16/25-1 electric pumping unit 


22

6.3

3000

    3V 16/25-1Т  electric pumping unit 


22

6.3

3000

    3V 16/25-20/6.3 electric pumping unit 


22

6.3

3000

     3V 16/25-20/6.ЗТ electric pumping unit 


22

6.3

3000

    3V 63/25-45/6.3 electric pumping unit 


46.8

6.3

1500

     ЗVВ 4/25 pump


6.84

25

3000

      ЗV 2.5/100 pump 


3.8

100

3000

     ЗV 8/100 pump 


11.52

100

3000

     ЗV 16/25 pump 


22

25

3000