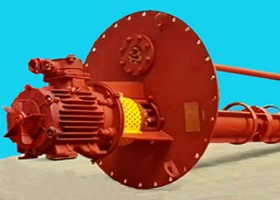 The pumps are designed to pump out chemically active, weak aggressive and neutral liquids from receiving tanks.

Built-in electric motor is used as pump drive. Pump shaft sealing is carried out by mechanical end seal.

Electric driven pumping units are manufactured of two types:
 general-purpose (KhPV);

 of explosive version (KhPE).
Technical data is specified in the Catalog.
When ordering the equipment which is been interested in, please fill in the Questionnaire.
The Company improves the pumping equipment and equips pumping units with the motors of different manufactures. Thereby when ordering, please specify overall and mounting dimensions and required parameters according to the recommended form of a Questionnaire.
Details are specified in the Technical Catalog "Industrial  Pumps".