JSC «SMNPO – Engineering» is one of the oldest enterprises and the only Ukraine's company manufacturing heavy duty reciprocating compressors.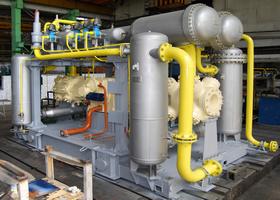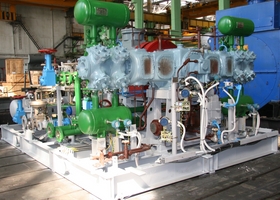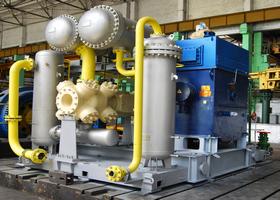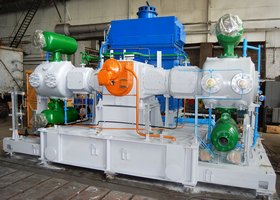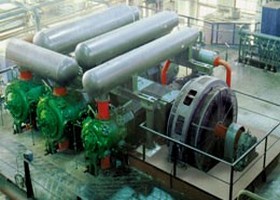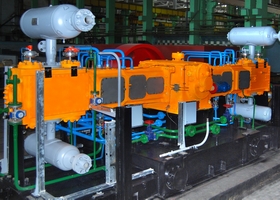 The first super power compressor with capacity of 10 000 m3/hour for pressure of 300 atmosphere was manufactured by the company in 1933 for Bereznikovsky chemical plant. In 1 949 the first heavy duty horizontal compressor 1G-166/320 .
The reciprocating compressors of medium, high and superhigh pressure are used for production of mineral fertilizers, for air separation, production of polyethylene under high pressure, compression of natural and associated oil gas, nitrogen, hydrogen and gas mixtures in energy, petrochemical, oil-refining and metallurgical industries.
     The company manufactures range of compressors of general purpose, special low power compressors for different branches of industry, as well as screw compressors for industrial refrigeration plants. The company produces mobile compressor units, designed for feeding special equipment with compressed  air.
     The units are fully autonomous and can be shipped by road and rail vehicles, air and waterways. They are highly reliable, durable, easy to operate and maintain, which makes them indispensable for field operation.All compressors are equipped with a system of automatic control and protection, which ensures control of basic operating parameters, emergency warning and alarms and shutdown of prime movers.
The Main Types of Reciprocating Compressors manufactured by JSC SMNPO-Engineering
№ 

Base designation

Number of rows

Maximum reciprocating force, t

Maximum shaft rotational speed, rpm

Type of bearings

1

Т1

1

1

1000

roller

2

2Т1,6

2

1,6

3

6Ш1,6

6

4

2М2,5

2

2,5

5

4М2,5

4

6

2М4

2

4

750

sliding

7

2М10

2

10

600

8

4М10

4

9

2М10А

2

1000

10

2М16

2

16

375

11

4М16

4

12

6М16

6

13

4М25

4

25

14

6М25

6

15

6М25А

6

1000

16

4М40

4

40

300

17

6М40

6
Reciprocating compressor designation structure,
Compressor designation example: 4GМ10-48/2-57S UHL4, where:
4 – number of rows;
G – gas (compressed medium);
М10 – opposite with reciprocating force for one row – 10 t;
48 – volumetric capacity reduced to suction conditions, m3/min;
2 – absolute suction pressure, kgf/cm2;
57 – absolute discharge pressure, kgf/cm2;
UHL4 – climatic version as per Standard GOST 15150.
Compressors can be manufactured in accordance with the requirements of Standards GOST and API-618.
The compressors are manufactured with or without lubricated cylinders and rod seals, depending on customer requirements.
Synchronous electric motors, asynchronous electric motors or gas-piston engines can be used as a compressor drive.
The scope of delivery may include both the compressor itself and the compressor unit, which includes inlet separators, interstage moisture separators, gas coolers, filters, shut-off, control and safety valves, an individual easy-to-assemble shelter or block-box.
Services of installation supervision, commissioning, training and service are also offered.